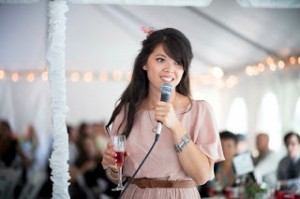 So, your closest friend is getting married to the love of her life. How do you deliver a toast that will reflect the love that they share? Here are some tips for writing and delivering the Perfect Toast. 
1. Open the toast with who you are and  how you know the bride.
2. Express the qualities that you love about the bride and the type of friend she is to you.
3. Tell the guests a short story about your perception of how the couples love began and when you knew that they would be married. You can make this part funny. Things she said or did that let you know that she had found "The One"!
4. NEVER bring up an "Ex" or mention things that would cause embarrassment or humiliation.
5. Address both the bride and groom when you are giving the toast.
6. Wish the newly weds a lifetime of love and happiness.
7. End your toast with a classic quote and "cheers" to the couple.
You are sure to impress all with your classy approach to honoring the bride and groom on their wedding day!