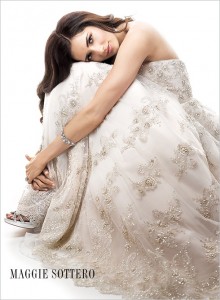 There are many different style options a bride can choose for their wedding gown. A lot of times brides can get a little bit overwhelmed with all of the different choices they are given when choosing a wedding gown. If a bride can determine what shape of dress looks best on her body shape, she can eliminate some dresses and focus on what she will look best in on her wedding day. The bride should also consider wedding gown preservation to remember the great moments that happened while wearing the gown.
Full Chested Brides: Search for gowns with a one shoulder and/or a corset back for some extra added support. If you are looking for a strapless gown, go for the sweat heart neckline to help elongate the neck and draw attention to your face.
Hour Glass Brides: Show off your curves by wearing a mermaid gown with a damask woven label. The mermaid gown will hug your hips and flare out at the knee, showcasing your tiny waist.
Slender Brides: Column and slim a-line gowns are perfect to show off your petite figure. To create more of an hour-glass silhouette, try fitted ball gowns that have a lot of volume at the bottom, creating the illusion of a wider hip.
Voluptuous Brides: Brides with a fuller figure should look for a dress with ruching through the midsection. Empire waist silhouettes with and a-line skirt are especially flattering for voluptuous brides, along with a corset back to help cinch everything in for an amazing hour-glass figure.
Kari's Bridal – Emporia Kansas Bridal Gown Shop